Our Investments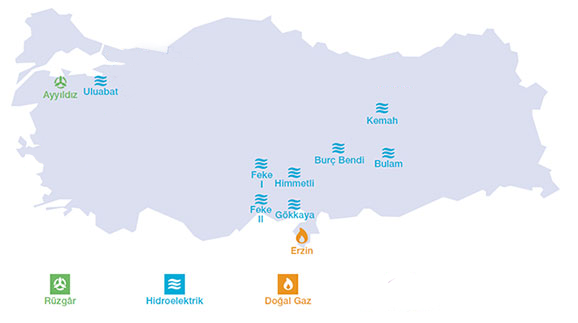 We Invested
| Existing Power Plants | Electricity (MW) |
| --- | --- |
| Erzin - Egemer DGS | 904 |
| Ayyıldız RES | 28,2 |
| Bulam HES | 7 |
| Uluabat HES | 100 |
| Feke II HES | 70 |
| Burç HES | 28 |
| Feke I HES | 30 |
| Gökkaya HES | 30 |
| Himmetli | 27 |
| Total | 1.224 |
Akenerji commenced operations in 1989 as the first Power Generation Auto-producer Group in Turkey, and as of today it has become one of Turkey's biggest private sector power generation companies in terms of the number of facilities and total generation capacity.
While Akocak (81 MW), Bulam (7 MW), BurçBendi (28 MW), Uluabat (100 MW) and Feke 2 (70 MW) power plants respectively became operational in 2010, Akenerji diversified its generation portfolio and expanded its renewable power based installed capacity to 301 MW.

Maintaining renewable energy investments at full speed, Akenerji activated Feke I (30MW) Power Plant and Himmetli (27 MW) Power Plant in 2011 and 2012 respectively.
Moreover, Akenerji continues its investments in this area with the Kemah HES project, planned to be established in Erzincan, whose license is held by İçkale Enerji Elektrik Uretim ve Tic. A.Ş., acquired by Akenerji in May 2010.
Feasibility works for the said project have been completed, and the current installed capacity (160MW) of Kemah HES Project is revised as 198 MW.
One of the most significant projects of the strategic partnership between Akenerji and CEZ Group is the EGEMER natural gas power plant, with an approximate capacity of 904 MWm, planned to be established in Erzin, Hatay. While the aim is to introduce an environment friendly, highly efficient and modern power plant to the region, construction works were initiated in 2011, and the project became operational in 2014.
Akenerji does not limit operations to its own generation portfolio. Accordingly, in May 2010 the company bought the entire electricity to be produced byPolatEnerji's power plants (with an electricity generation capacity of 100 MW) until the end of the year. Akenerji extended this cooperation till the end of 2011, and acquired all the capacity of the wind plants with current installed capacity of 128.3 MW, and which is targeted to rise gradually to 189.2 MW by the end of the year.
"Akenerji entered an intensive investment and restructuring process in the previous period. In spite of the ebbs and flows as well as the economic crises encountered both in the global and domestic markets, Akenerji maintained and achieved its investments as planned.
8 hydroelectric power plants, with a total size of 373 MW, became operational in this process with an investment of USD 1.5 billion. Egemer-Erzin Natural Gas Combined Cycle Power Plant, which is the major investment of the partnership between Akkök and CEZ and Turkey's most efficient power plant with a capacity of 904 MW, started power generation. Meanwhile 3 natural gas power plants with a total size of 304 MW were removed from the power generation portfolio, as they were unable to meet today's market needs.
After Egemer Natural Gas Combined Cycle Power Plant became operational in July 2014, Akenerji became diversified in terms of both resource and geography. It attained a power generation portfolio capacity of 1292 MW, with state-of-the-art technology.
Since 2005, Akenerji has concentrated on generation investments based on renewable power resources, to attain resource diversity in generation. It reaches renewable power resource based generation capacity of 388 MW in total by means of hydroelectric plants and wind plants, entering operation gradually. The Erzin Natural Gas Combined Cycle Power Plant alone has the capacity to meet 2.7 % of Turkey's power need. Akenerji's total installed capacity is now reached 1,224 MW.
In addition to power generation resources, Akenerji offers resources from other producers with wholesale power purchase agreements. With this perspective, Akenerji is one of the foremost companies in the sector, not only for its producer role, but also for its operations in the field of energy trade."